Revolutionary War Reenacting - in Arizona? Yes! We created it!
The history of Revolutionary War reenacting in Arizona began back in the late 20th century with a gentleman who portrays General George Washington and later with the founding of We Make History in 1999. By 2002 we were holding historic balls in Arizona set during the American Revolution and in 2003 we held our first annual American Heritage Festival in Queen Creek, Arizona. As part of the planning for that auspicious and visionary event we organized the first Revolutionary War reenacting group in Arizona history and held the very first Revolutionary War encampment and Revolutionary War battle reenactment in Arizona as well. In the years since we have grown, expanded and now boast the Virginia Line of the "Continental Line", Continental Marines and Patriot Militia of the United States Army, the Royal Welch Fusiliers, 1st Foot Guards Grenadiers, Hessian Jaegers and Loyalist Militia of the British Army and a number of specific historic personalities including General George Washington. The American Heritage Festival continues to be THE event for Revolutionary War reenacting in Arizona and the West and our 14th annual will be held in November 2016. We are now able to field close to 100 Revolutionary War era living historians, both soldiers and civilians, representing and reenacting both the British and American sides of the American Revolution.
Our annual American Liberty Festival which is held in Phoenix each February and in Tucson in the Fall or Spring have been tremendous successes. These are the first ever educational living history events in Arizona to be focused entirely on the American Revolution and have been rapidly growing over the years.
Continued growth in numbers, quality and authenticity are all part of our bright future as we continue to develop Family Friendly Revolutionary War reenacting in Arizona and beyond. Our Virginia Line and Royal Welch Fusiliers are already well established and growing as are our Civilian Ladies, Patriot Militia, Loyalist Militia, Continental Marines, Grenadiers of the First Foot Guards and Jaegers of Hesse Kassel. We are learning, serving and growing together!
Yes, we are recruiting more reenactors and living historians to portray the American Revolution in Arizona and beyond on the East Coast as well. You may contact us at this link for details.
A few photos and much information has been posted below which we trust you will enjoy. The vision of The Founding Fathers marches on!
Revolutionary War Reenacting in Arizona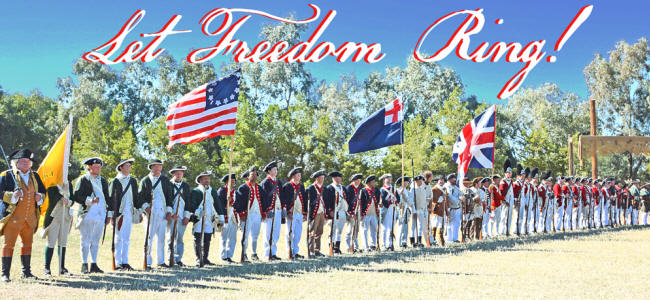 Welcome to the home page of Revolutionary War Reenacting. We are the Revolutionary War era living history facet of We Make History and Family Friendly Reenacting representing Patriots, British and Civilians of the American War for Independence circa 1775-1783. We are the only specifically Revolutionary War reenacting group active in Arizona and the Southwestern United States. Our purpose is to utilize living history or "historical reenacting" as an educational tool to increase awareness and appreciation of our American Heritage of the era of the American Revolution and the Founding Fathers. Along these lines we serve public schools, private schools, homeschool organizations and families of all ages in bringing history to life in a way that is engaging, creative, interactive, inspirational and memorable. At our 18th century educational events young people and indeed people of all ages have the opportunity for diverse and unique learning experiences such as interacting with historic characters, learning of historic lifestyles, occupations, beliefs and practices, watching a skirmish, being taught military drill or perhaps even having the opportunity to dress historically, carry a flag or engage in 18th century arts, crafts or dance. We are family friendly and committed to a wholesome and positive presentation with not only roles for historic soldiers of the American Revolution but many roles for ladies, children and civilian men as well. Activities we take part in include the annual American Heritage Festival, balls, parades, picnics, holiday events, 18th century social gatherings and a variety of educational programs. Many of us specialize in "first person" or "in character" portrayals. On the battlefield we proudly represent the forces of the United States and Great Britain to provide an excellent, multi-faceted educational program centered on the American Revolution that is suitable for all ages.
Our Revolutionary War Reenacting group has numerous facets which work together as per the American Revolution of 1775-1783. Each of these facets includes not only soldiers but appropriate civilian involvement as well.
THE VIRGINIA LINE of THE UNITED STATES CONTINENTAL LINE
Regular United States Infantry were known as "Continentals" or the "Continental Line." Contrary to common perception the American Revolution was not ultimately won merely by brave but undisciplined volunteers. To win the war it was necessary to train an army with the requisite discipline to go "toe to toe" with the British in open battle - thus George Washington's Continental Line. We do have specific uniform standards for this and other portrayals.
THE CONTINENTAL MARINES
Founded in 1775 the Continental Marines fought well on both land and sea. They were used as soldiers in ship vs. ship battles, stormed beaches and fought as landing parties, and also fought in regular land combat, occasionally being attached to George Washington's Army. Their coat is green with white facings and turnbacks. Their waistcoats are white with anchor buttons and their hat is a black round hat with an anchor button and a black cockade. Their flag is the famous coiled rattlesnake on a yellow field wit the motto "Don't Tread On Me."
GEORGE WASHINGTON'S LIFEGUARD
A "corps of sober, intelligent, and reliable men" from across all states served in this elite unit which functioned as George Washington's body guards, set up and guarded Washington's HQ tent and fought with uncommon valour in the line of battle.
MILITIA "The Patriot Volunteers"
The Patriot Volunteers are Arizona's Revolutionary War militia company. The majority of those who fought for the patriot cause during the Revolutionary War were civilian men, often with minimal or no training who turned out when needed, usually to defend their home area. These men were from every type of occupation, social level and background imaginable. Those portraying gentlemen, shopkeepers, mechanics, ministers, merchants, traders, peddlers, sailors, fishermen, trappers and frontier settlers are all welcome in the militia. Those portraying farmers are especially welcome as this class made up the majority of Americans at the time. Our Patriot Volunteers primarily represent militia of the American Revolution but are also able (with small adjustments) to portray the French & Indian War and other aspects of the Colonial era.
RIFLEMEN
These were men from the western areas of Virginia, Pennsylvania, the Carolinas and even the regions that would become Tennessee and Kentucky. (Those from the area that is now eastern Tennessee were known as "Over the Mountain Men.") They were expert with the rifle, a weapon virtually unused in the more settled areas. In military terms they had unique strengths and vulnerabilities which meant that their role on a tactical level was different from that of the Continental Line or the militia. There are Indian allies among them.
EUROPEAN ALLIES
Included here are soldiers and advisors from among America's allies, particularly France but also including Spain (which sent troops to fight in Florida and Louisiana) and volunteers from other European nations as well.
Portraying the Royal Welch Fusiliers (23rd Regiment of Foot, 23rd of Foot, 23rd Foot, 23rd Welch) is an honour. This fine regiment fought up and down the North American Continent from 1775 to 1781 throughout the entire course of the American Revolution. The 23rd was present at the initial actions of Lexington and Concord in the Spring of 1775, fought in battles ranging from New England to the Carolinas over the next 6 1/2 long years, and finally surrendered at Yorktown with Lord Cornwallis in the Fall of 1781. We portray both Battalion Infantry and Grenadiers.
THE GRENADIERS OF THE FIRST FOOT GUARDS
The First Foot Guards were the oldest regiment in the British Army and the Grenadier Company was made up of its tallest men, outfitted in tall bearskin hats and trained as shock troops. They were a fearsome foe on any battlefield.
LOYALIST MILITIA
Whether as militia or structured regiments many American "tories" served the British cause. Our group is the "Queen's Loyal Militia" and is uniformed in green hunting frocks.
THE JAEGERS OF HESSE KASSEL
These German troops were special recruits with backgrounds as huntsmen, rangers and marksmen. They were Britain's countermeasure to American sharpshooters. Like their opponents they were highly skilled in open order combat but they could fight well in line of battle too.
As all of the above...
We proudly participate as reenactors of the American Revolution in the American Heritage Festival being held each November in Queen Creek, Arizona. We are active in Arizona and The Southwest and have traveled to provide educational opportunities as far distant as the East Coast as well. We enjoy taking part in numerous civilian oriented activities such as historic balls, school & civic presentations and period style social events.
Recruits Wanted!
We are actively seeking new recruits for our Revolutionary War era presentations for our American Heritage Festival, American Liberty Festival and other upcoming events as well.
Wanted: Men who will stand for freedom as Patriot Militia, Frontier Riflemen, European allies, Continental Marines or Regular United States Line Infantry of George Washington's Continental Army. Each of these components were involved together in many Revolutionary War battles. Contact us to volunteer!
Wanted: Men who will stand for King, Country and the honour of Great Britain as British Regulars, British Grenadiers, Hessian Jaegers or Loyalist Militia serving King George. Each of these components were involved together in many Revolutionary War battles. Contact us to volunteer!
All content ©2012-2016 We Make History
No reproduction without written permission.